Im Rahmen des Tags der Lehre an der HdM halte ich einen kleinen Vortrag zu meinen "Days".
Mittwoch, 4.12.2013 um 16.45 in 013 in der Nobelstrasse 10, Stuttgart-Vaihingen. Der Talk "Blick über den Tellerrand" beschreibt ein wenig die Hintergründe, Zielsetzungen und Tricks.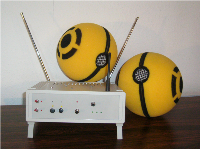 The image shows a solution for a rather hard problem: capturing live discussions with little equipment and almost no manpower. And to top it off: in any room. So we are talking a mobile solution too.
Note
The prototype has been usability tested successfully and all it takes now is somebody who can turn it over into a ruggedized product. Let me know if you can do it!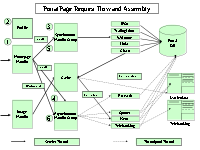 This week I realized, that splitting up requests into tens or hundreds of subrequests is still a rather hard problem, due to the long-tail distribution of response times. A portal is a typical fan-out architecture. In 1999 I found some solutions for fan-out like controlled backends, replication and incomplete (tainted) requests. Google of course goes much further today.
Strictly timed requests, distributed loads and a close look at everything from the CPU over network buffers, data structures in memory etc. are in the toolbox.
Offline, Online and One-Pass - algorithmic lessons learned from High-Frequency Trading and others, more...

You think milliseconds is fast? Think again. Think about putting algorithms into FPGAs. Think about creating algorithms that fit into L1 caches. Algorithms which do not need much memory and which do not touch data more than once. Learn about the use of one-pass algorithms from HFT. And start thinking about all the places in our computing infrastructure, where latency hides.
Is the Internet a good model for power grids? What can energy engineering learn from IT and what should it better do in its own ways? Which patterns work in both areas? What makes a robust solution? This is a short talk on some ideas gained from the Smart Grids Week in Salburg this year. Cultural and technical aspects are covered in my talk on Blackout - on the role of IT in Smart Energy Grids .
Note
Wednesday 27th November, 17.45 at HdM, room 011. As always, the event is free of charge and open to the interested public. Directions can be found at the hdm homepage.
Experiences with Model-Driven Architecture in a large Project
Christian Teutrine, Senior Managing Consultant with Global Business Services, IBM will give a talk on practical experiences with MDA, made in a large project which took 7.5 years from the concept phase to the go-live. 80% of the code had been generated. Mr. Teutrine had the role of a business lead architect in this project, and in his talk, he will look at it from a business architecture point of view: How does MDA influence the contractual situation? The project management? Can agile methods be used with MDA? How well does it work over the years? What if off-shore employees join the project?
This talk is a rare chance to get first-hand experience on the interplay between business and technical aspects in a really large project. It is not so much a technical talk.
Note
Wednesday 4th December, 19.30 at HdM, room 041. Live streaming at can be found at events.mi.hdm-stuttgart.de . As always, the event is free of charge and open to the interested public. Directions can be found at the hdm homepage.
How does Amazon know what we want? Learn about advanced recommender systems which use clever algorithms to match users and items. See how math and computer science shape modern marketing.
Note
Friday 29th November, 14.00 - 17.00 at HdM, room 56. A live stream with chat is provided. As always, the event is free of charge and open to the interested public. Directions can be found at the hdm homepage.
It was more than time for a re-structuring and renovation of my site. I considered changing to wordpress but finally decided to stick with my xml-based generative approach. But instead of generating my own navigation I am now using CSS3 (without any javascript) for it. Now comes content cleanup...