I am Professor for Distributed Systems and Internet Technologies at HDM Stuttgart, currently acting as dean of the Computer Science and Media Master program. I used to work as a system architect for pythonfactory GmbH in Basle and Zurich, mostly involved in projects for a large swiss bank. Before that I was a system engineer for operating system development, framework development and embedded control systems.
you can send me E-mail at:
Note
PLEASE USE MY PGP KEY IF YOU SEND SECURITY RELATED INFORMATION AND CALL ME BACK ABOUT MY FINGERPRINT IF IN DOUBT. my pgp key
The next picture shows me working at Hochschule der Medien Stuttgart - a university of applied science.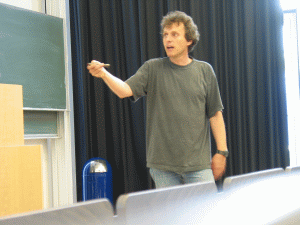 The university building is quite modern and special. A blue wall seems to run through it. The cafeteria is a two story bar like thing playing the latest multi-cultural music e.g buddha bar, nirvana lounge, Claude Challe etc.
Find my CV here: html version, and here the pdf version .
For a german version go to: html version , and here the pdf version .
And another picture at work (thanks to Markus Wichmann)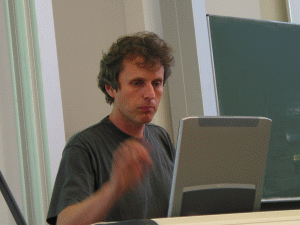 And here comes one of my bigger hobbies lately. After riding an FJ1100 for many years (of which a farmers tractor separated me, but that is another story), and after having no bike for almost three years I got myself one of my all-time dream bikes: a blade. It's the version with the under-seat exhaust. Compared with my FJ the lean-angles possible with this type of bike are just unbelievable. But the best pieces are the advanced frame and suspension technology and the really excellent brakes. They make the tail go way up every time I hit them hard. And they are able to keep the tire at the maximum friction.
the pictures are curtesy of Sven Cichowicz, the excellent photographer who also took the pictures for the CS&M homepage.