Julia Duwe wrote a very nice article on the why and how to study computer science and media. She took our faculty as a role model. Her article has been printed in unicum magazine
Besides my lectures and seminars I usually organize a course called "Current Topics". Senior industry specialist come to us and present the latest developments and research work from their area. You can find the current program always via my homepage (right sidebar). A how-to of organizing events, more... A little write-up (with the help of Mareike Lattermann) to help students in organizing our days.
Finally, if you are interested in my personal point of view with respect to the role of computer science in general you can read Die Lust an der Informatik, on the pros and cons of computer science and its social responsibility - an interview (in german)
And some success stories from our faculty: Recent Awards for Computer Science and Media Alumni, more.... Ron Kutschke best student award, Matthias Feilhauer receives CDG price for his thesis, read on.
The future of computer science - 10 years CS&M, more..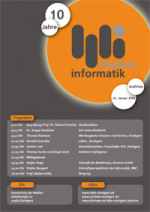 The computer science and media faculty at HDM proudly celebrated its 10th anniversary. If you want to know what CS&M graduates do, just join us on Thursday for presentations by our alumni. If you have questions about the future of computer science and its general course - say you don't believe that IT's job is to create Orwells 1984, spam and malware, then you should attend our sessions on the future perspectives of computer science. Ambient intelligence, mobile networks and a social, utilitarian future based on computer science paradigms are our topics.
Note
Please have a look at the university calendar to see which one I'm reading this term.
As the next girlsday is approaching fast I have collected some ideas and results from our last girlsday. Learn about what works and what doesn't. (in german)

At the end of the term our computer science projects are presented to the public. And as always this has been a demonstration of ideas and know-how. Need to find out what makes a Web2.0 application? Take a look at 5seats - a smart application that avoids empty cars being driven around. Built by Benjamin Kenner, Matthias Hahn, Marc Böhret with Ruby on Rails/REST etc. it is a wonderful showcase for Web2.0. But there is much more so take a look at the list of projects . And last but not least a wonderful computer animation about our future according to Orwell. Watch Benjamin Zeiser's Panopticum .

The story of our second motorbike excursion and some pics..

hard working MI specialists in Zürich...

Enterprise desktop search engines, central user repositories, semantic protocol descriptions for autoconfiguration of home networks, empirical studies on web banners and last but not least the problem of electronic waste have been studied lately in our computer science and media faculty at HDM. Read more on the results.

Some good and free books on how to measure your web site, how to deal with RFIDs and how to create J2EE adapter.

Some pictures from our bike trip around IT-Security themes.

Enterprise security infrastructure and directories (LDAP), application server architecture, administration and performance. Clustering, caching and enterprise integration using web services and service bus technology. If this is your world - read on.

Now is the time to think about next terms software projects. I've collected some crazy ideas, some of them supported by companies.